Ahhh, whiskey. Its history is as long-lived and delicious as its flavors. If you're a whiskey lover, you're aware of the millennial-long heritage of this sometimes clear as a cloudless sky, sometimes dark as a midnight thought liquid. 
What you may not be aware of, is our Cooper's Cask Coffee list of gifts for whiskey lovers! We've spent minutes scouring the web for cool stuff whiskey lovers would…well…love. We've got our own contributions to that list that'll give a whiskey lover their favorite flavors any time they want.
Coffee Gifts for Whiskey Lovers
Our barrel aged coffees are heaven sent for whiskey lovers. Our aging process for green coffee beans infuses them with flavor cues from retired barrels in which whiskeys and bourbon (and even rum and wine) have been aged. 
We take specially curated single origin coffee—picked for how its eventual roasted flavor profile will complement the flavors added by the whiskey barrel aging— and let it rest in those barrels for weeks or months. 
When the right amount of time has passed, we take them out and roast them on a per-order basis, for the freshest, most unique coffee experience for whiskey lovers. Heck, for coffee lovers in general!
How We Pick the Barrels
It's important that we choose quality barrels. The companies we choose to supply them have to be conscientious not only of the quality of spirits kept in those barrels, but of the environmental impact the barrel sources have for their processes. 
After much discussion, checking, and perhaps a little bit of taste testing—we decided on using award-winning whiskey barrels from Sons of Liberty Spirits (South Kingstown, RI), and retired bourbon barrels directly from Kentucky bourbon producers. You know, Kentucky, the undisputed birthplace of the bourbon legacy. 
Related: coffee gifts they'll love!
Our Whiskey & Bourbon Barrel Coffee Choices
Ready to give great coffee gifts for whiskey lovers? Here are our super-tasty choices from Cooper's Cask Coffee.
Malt Whiskey Barrel Aged Coffee
Our Single Malt Whiskey Barrel Aged Coffee starts with unroasted Sumatra beans. We chose these beans because they deliver the coffee flavor notes of woody earth and mild sweet tobacco with a hint of tropical fruit.
We load them into a retired Uprising Malt Whiskey barrel from the Sons of Liberty, and age them for a few months. The process adds additional tasting and aroma notes of caramel and vanilla. 
Your whiskey lover will enjoy a medium dark roast coffee that's full-bodied with a long whiskey finish.
Rye Whiskey Barrel Aged Coffee
Cooper's Cask Coffee also offers Rye Whiskey Barrel Aged Coffee. For this barrel aged choice, we begin with Ethiopian Dry Processed beans. This lively bean delivers a subtle citrus taste with raw floral honey and wild berry undertones. 
We take these beans and age thim in retired Battle Cry Rye Whiskey barrels, another delicious product from Sons of Liberty Distillery. 
When the aging is done and they've been roasted to peak perfection, Rye Whiskey Barrel Aged Coffee imparts a bright and clean flavor profile with a slight acidic spice. It's fun to watch him discover the fruited notes of peach jam and strawberries, a touch of sweetness of red raw honey and hints of dutch chocolate. 
Bourbon Barrel Aged Coffee
When most people think of Kentucky, they think of Daniel Boone, the Kentucky Derby—and bourbon. As matter of fact, 95% of the world's bourbon is produced in, you guessed it, Kentucky.
At Cooper's Cask Coffee, we make our Bourbon Whiskey Barrel Aged Coffee using only the best of the Kentucky bourbon industry's retired barrels. We fill them with Colombian single origin green coffee beans for aging. This varietal brings a mild flavor that includes hints of rustic sweetness, cocoa, and dark fruit notes. Those beans soak in the bourbon essences, and our master roaster finishes the roast for fresh perfection. 
When your whiskey lover takes a sip, they'll be delighted by a vibrant taste profile of rustic sweetness, a hint of cocoa and dark fruit notes with that classic bourbon finish.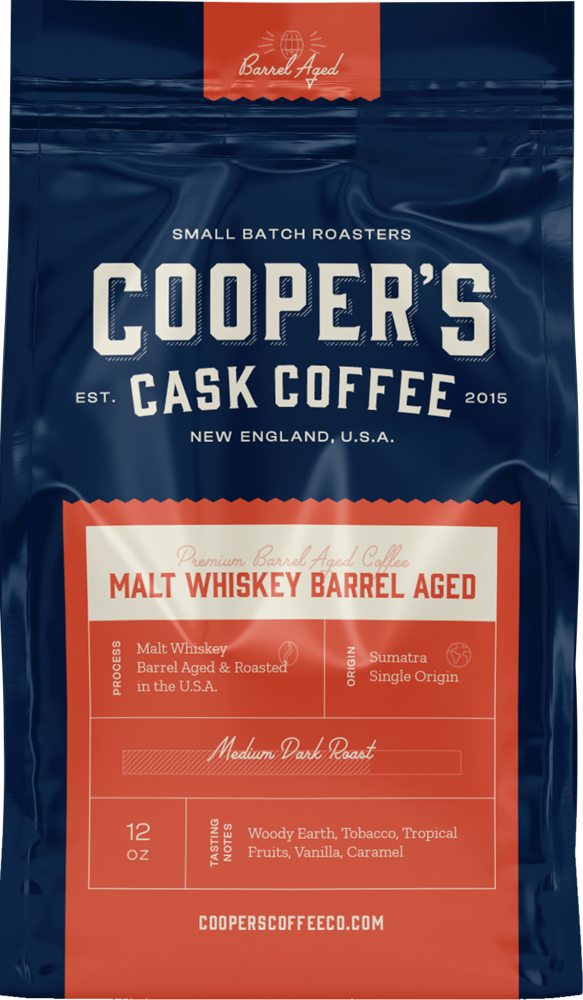 More Gifts for Whiskey Lovers
Our barrel aged coffees deliver super-pleasing gourmet experiences. But what about the spirits that once filled those barrels? Oh yes, they make great gifts too!
"Uprising" Single Malt Whiskey
The Sons of Liberty distillers do some serious magic. Their single malt whiskey is a taste-test verified, staff-approved favorite, not to mention it makes a heckuva barrel aged coffee!
Malting anything gives a creamier, sweeter mouthfeel and taste. The process of malting barley involves soaking barley in water, then allowing it to germinate. That germination gets stopped just before a new plant sprouts, and then that "green malt" barley is dried. What's left is a malted grain packed with sugars and starches. 
How the processors control the heating while the barley dries changes the final version of the malted barley. If they add more heat, it darkens the malt, which is used to make those delicious stout beers.
Sons of Liberty uses these darker malts to create Uprising American Single Malt Whiskey. Their fermentation process includes 100% malted barley, and then it all goes through not one but two distillations. The results are aged in newly charred American Oak barrels, with an additional introduction of toasted French oak pieces for added flavor.. 
Break the seal and get ready for an extremely smooth experience. The whiskey lover will explore flavor notes including vanilla and caramel, along with distinct mocha/coffee tones. 
Be sure to check out the Sons of Liberty flavored whiskeys, along with their vodka, and gin!
"Battle Cry" Rye Whiskey
Another Sons of Liberty selection, Battle Cry Single Malt Rye Whiskey uses 100% malted grains. It starts with rye malt and honey malt, which add both spicy and sweet notes. It's fermented with a Trappist-style yeast strain, and eventually aged in newly charred American Oak Barrels. Those are the barrels we use for our Rye Whiskey Barrel Aged Coffee.
If this ends up one of your gifts for whiskey lovers, here's what they're in for: hints of dark fruit and spices like anise and black licorice, along with a distinct sweetness and lovely but gentle bite.
A Favorite From Kentucky
It's so hard to pick a Kentucky bourbon out of sooooo many! We ended up using a 3 point system to hone it down:
Tastes great (confirmed by group testing)

Has presentation cache (makes dad's buddies nod in approval)

Isn't brutally expensive (but not cheap either)
We reviewed a bunch, and finally settled on Basil Hayden Kentucky Straight Bourbon Whiskey. This straight bourbon whiskey uses a higher percentage of rye than other bourbons for a more present and still very pleasant spice and bite. 
The flavor profile also hints at a brown sugary sweetness, touches of black pepper, and a suggestion of dried fruit at the finish.
Related: bridal party gifts.
Now for Something Completely Different
If your whiskey lover has a sense of humor, we thought these might be fun for them!
Talk About A Shot of Whiskey
There are plenty of glasses with a bullet sticking out of their sides available on the internet. However, charmed as we were, we stumbled across this site that really delivers on the "hey, there's a thing in the side of your glass" crowd. 
Benshot.com offers rocks glasses, shot glasses, pint glasses, coffee cups and more—with things sticking out of the side of them! Some of the glasses can have custom words or images etched on the side too. And they're affordable!
Imagine your whiskey lover enjoying a couple of fingers of Battle Cry rye, or maybe clear glass cup of our Bourbon Barrel Aged Coffee, with this sticking out of the side of it:
A copper bullet (you pick the caliber)

An ax

A hockey puck

A golf ball

A fishing lure

An airplane propeller

A lego block

A shotgun shell

A guitar pick

And there are lots more.
Won't kid you, we want to sip from them all!
Canned Critter
Buffalo Trace has a sense of humor (along with a tasty whiskey). And for any that's ever eaten "potted meat" from a pop top can, this brings back some pretty weird memories at first. 
However, it's not what you think! Buffalo Trace Canned Buffalo Critter is the gift that's enjoyed for longer than a bizarre sandwich and a grape soda to wash out the taste. Oh, it's got buffalo in it. A whole buffalo, horns and all. All you need is a can opener, and a hug. 
It's one of the gifts for whiskey lovers who have a soft heart!
The Happiest Drink on Earth
This is cheap. Way cheap. It's stupid. Way stupid. And we won't kid ya, we liked it. Plus, it's the only time we'll say…it doesn't get any "goofier."

Thank you, we'll be here all week.
From Teepublic.com, somebody is making these little stickers for cars. At first glance you think, "oh, yeah, there!" But then you realize, well, it's entirely something else.
In a very familiar font, the sticker reads:
"Malt Whiskey
The Happiest Drink on Earth"
Well, as a kind man once said, if you can dream it…
Gift Card Gifts for Whiskey Lovers
If you'd rather your favorite person picked their barrel aged coffee on their own, just get them one of our Cooper's Cask Coffee Gift Cards. It comes in 10, 25, 50, or 100 dollar amounts, and takes the pressure off you to pick their perfect cup of joe. 
Need More Ideas? Contact Us!
The coffee geeks and caffeinated geniuses at Cooper's Cask Coffee would be delighted to help you put together coffee gifts for whiskey lovers, and ship them either to you, or directly to the lucky recipient! Just contact us, and let us know how we can help.
Remember: Cooper's Cask Coffee only roasts fresh to order. We combine the world's best single origin beans with award winning whiskey and rum barrels for an amazing experience in each cup. Plus our money back guarantee ensures free returns or exchanges. .
Make each pot a gift. Small batch, big satisfaction. Cooper's Cask Coffee. 
Sign up for our email list and get 10% off your first order!